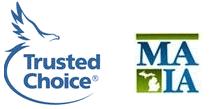 Proud members of Trusted Choice and the Michigan Association of Insurance Agents

Welcome to Shores Agency, Inc. - Macomb, Oakland and Wayne County's Insurance Center, yet, serving the entire state of Michigan since 1949. Located in Grosse Pointe, MI.

We are a full service Independent Insurance Agency representing Top Rated Insurance Companies. Our Agents specialize in the coverage and policies that you need whether it's personal insurance for your home, auto, watercraft or yacht or business insurance coverage for your property, liability, workers compensation, employee benefits or cyber coverage for you electronic exposures.

The Shores Agency is always available for a one on one meeting with our insurance advisers to help you through the insurance process and placing your coverage for you. We will be available for consultation throughout our relationship to assist with updating your coverage, handling your claims and business transactions affecting your insurance program.

Combined with our Partnership Agency, Aitken-Ormond Insurance and a subsidiary organization, Pointe Counseling Services LLC www.pointecounseling.com, we are uniquely qualified to:

- Advise you of the best policies to cover your exposures to loss, through solid Risk Management techniques

- Chose the right companies offering the best coverage at competitive prices for your specific needs

- Monitor your claims to assure proper and timely settlement and fight on your behalf for any disputes

- Keep your coverage up to date to meet with the rapidly changing insurance environment.

- Provide the service that our clients demand and deserve.